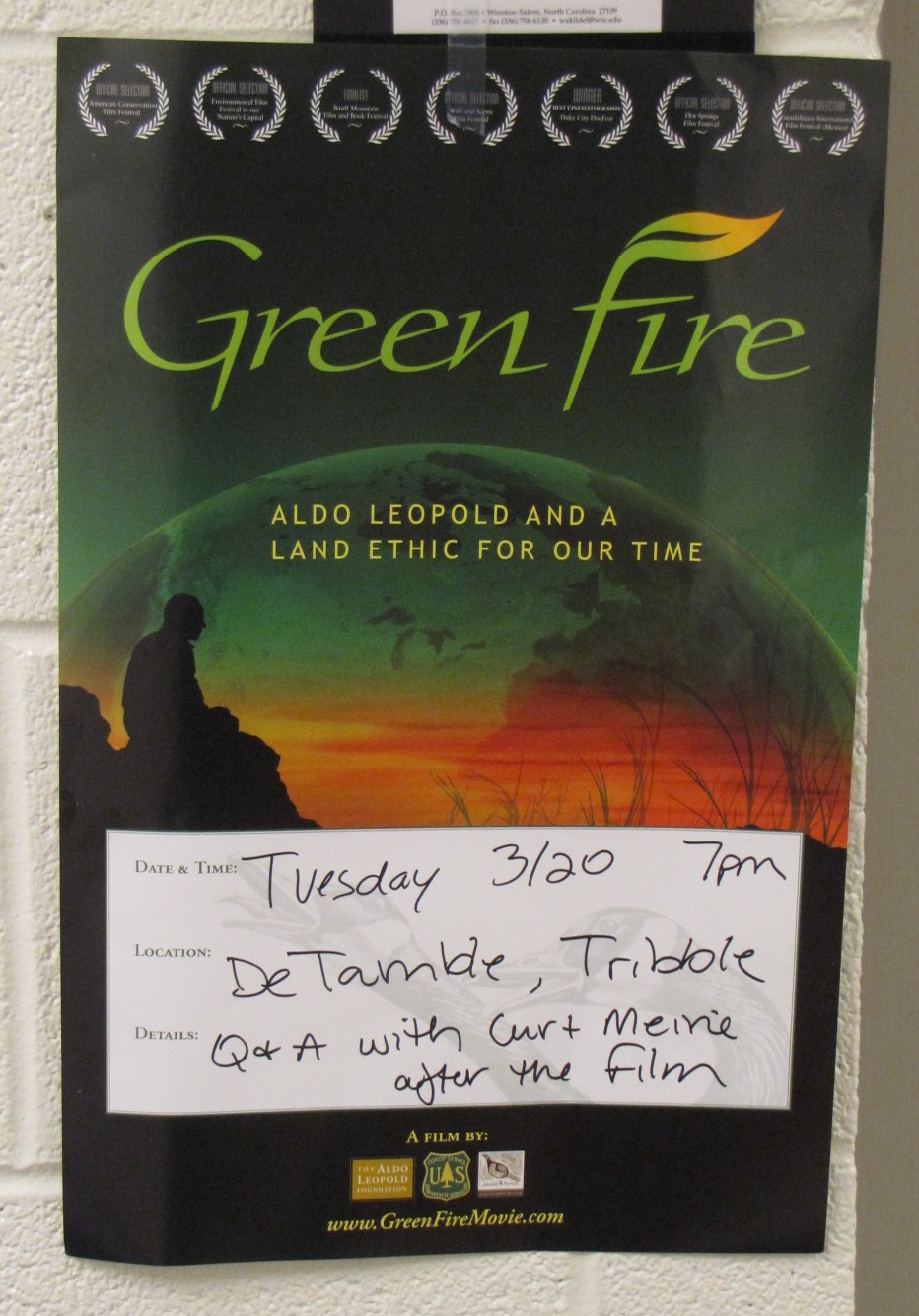 The first full-length documentary film about conservationist Aldo Leopold, Green Fire explores Leopold's extraordinary career and enduring influence, tracing how he shaped the modern conservation movement and continues to inspire ideas and actions that connect people and the land.  The film was co-produced by the Aldo Leopold Foundation, the Center for Humans and Nature, and the U.S. Forest Service.  I was honored to serve as advisor, writer, on-screen guide, and narrator for the film.
Green Fire garnered a number of awards, including an Emmy Award, Best Historical Documentary, Chicago/Midwest Chapter (2012), a Telly Award (2011), and a CINE Golden Eagle Award.
To watch a short trailer, click here.  To watch a longer trailer, click here.
Green Fire was released in 2011, and continues to be screened regularly in communities far and wide.  Some of these screenings can be found listed at the Aldo Leopold Foundation's website here.  If you are interested in organizing and hosting a screening, the Leopold Foundation provides all the information here.
This is the story of how we found the site where Aldo Leopold shot the wolf that he later wrote about in his famous essay "Thinking Like a Mountain."  The Green Fire film team was able to record this discovery as it was happening.  With my colleagues Dr. Susan Flader and retired wilderness ranger Don Hoffman, we journeyed into the mountains of eastern Arizona in search of the Green Fire.
Bonus Features
After completing Green Fire, our film team realized that we had a wealth of video material remaining in our "vault."  We used this material to further explore key themes involving conservation and the ever-evolving land ethic.  These short bonus features include not only our colleagues who appear in Green Fire, but many other remarkable conservation colleagues whom we interviewed during the making of the film.  Enjoy these many and varied "Voices of Green Fire"!
The Land Ethic Across Cultures
Land Ethic/Earth Ethic:  Making Connections
https://www.youtube.com/watch?v=Oo5QPcpRjb8&feature=youtu.be
Connecting City and Country
Chicago Wilderness and Urban Land Ethic
https://www.youtube.com/watch?v=-AASA7kytug&feature=youtu.be
Agriculture, Food, and Community
https://www.youtube.com/watch?v=YyxUMJNGJWU&feature=youtu.be
Connecting Economy, Ecology, and Ethics